All the animals marketed by Vaquería del Este come from establishments certified with the Natural Meat protocol by the National Meat Institute INAC.
Vaquería del Este offers Never Ever 3 - USDA Process verified program certified animals.
That means the animals have not received, during all their lifetime, any type of antibiotic, growth promoters or by-products from animal origin. The certifying process is the result of audits conducted by independent third parties, being verified and monitored by INAC and the US Department of Agriculture.
Antibiotics prohibition includes such drugs as sulfonamides and ionophores, growth promoters include natural and synthetic hormones, estrus suppressors and beta agonists including ractopamine. The forbidden animal by products include mammal or avian flours and waste. Fishmeal and mineral supplements or vitamins are accepted.
Vaquería del Este CERTICARNES Certificate
Vaquería del Este LSQA – PCNCU Certificate
Label Never Ever 3 USDA Verified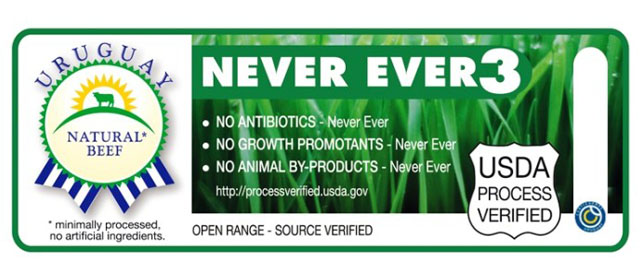 Grasslands meats
Vaquería del Este adheres to the Grasslands Alliance principles. Some of our establishments fulfill the requirements of its Grasslands Meat Program and provide animals to produce meat cuts that are marketed under that brand.
The process attributes verified under this system include the preservation of at least 50% of the land's surfaces as natural grassland or improved natural grassland, which ensures the protection of biodiversity.